They
Will Be
Connected
Very Soon!


Coton
Origin


Coton
Registries
Coton de Tulear are part of the wonderful Bichon Family of Dogs. They are recognized by their unique cotton-like coats. It is their intelligence and charming personalities that will capture your heart. The Coton de Tulear are one of the world's rarest of all the pure-breeds.
To Know Them is to Love Them!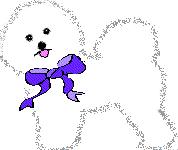 General Information About the Coton de Tulear

Where do they come from?
The Coton de Tulear originates from the island of Madagascar. They are an ancient pure-breed who were exclusively the dog of Royal Malagasy nobles. Now this exceptional, elegant companion is available to a select few outside that legendary land. They were introduced into the Fédération Cynologique Internationale (FCI) Registry in 1975 and they were included in the American Kennel Club's Foundation Stock Service (AKC/FSS) in 1996.


What size are they?
The Coton stands between 9.5 and 13 inches tall, measured from the top of the shoulders to the ground and is under 18 lbs. in weight.


Cornerstones Divine Toliara
AKA "Toli"

What do they act like?
The Coton is an extremely intelligent, calm, sweet and affectionate breed. They are very quiet, are excellent with children and get along well in almost every situation.


What color are they?
The Coton is predominately white. They are allowed to have yellow or tri-color markings. The marking colors may appear to be a light grey color (mixture of white and black hairs) or of red-roan (mixture of white and fawn hairs). Puppies commonly have color that will fade to white as they mature.


Do they shed?
No. The Coton has a COMPLETELY NON-SHEDDING coat.


What about allergies?
Since the Bichon Family of dogs do not shed, they have been refered to as being "hypo-allergenic". Many people with asthma and other allergies have been able to own a Coton without any adverse reaction.


What about grooming?
The Coton does require periodic grooming since the coat does not shed. The hair is about four-to-six inches long, dries quickly when wet, and requires relatively little brushing. Many families prefer to keep their dogs in a puppy cut for the simplicity of care.


Are they healthy? How long do they live?
The Coton breed is extremely healthy, long-lived and in the North American population the breed has no known genetic defects. They may live to be as old as 19 years of age when properly cared for, with the average life span of the Coton de Tulear being around 16.