Photos of our little ones who will be available to go home with their new families soon can be seen in Our Nursery. We may make announcements of litters we're expecting or share pictures of our new babies shortly after they're born. Typically, we will only post individual pictures of pups who are eligible for immediate selection by name once they've reached the age of 6 - 8 weeks.
If you're interested in finding out more about our current or upcoming litters, our process begins with your contact to us. You're welcome to text us, call us, connect with us on our Facebook page: Cornerstone Coton and Havanese, send us an email, leave a voice message, or any form of communication you'd like to use. We look forward to hearing from you!




























At this time, we are accepting reservations for future puppies to be selected from our current and upcoming litters. Before accepting a reservation for a specifically named puppy, we do require that we have the opportunity to speak with you directly to be sure that puppy will be right for you. We uphold a strong commitment to our customers, as well as our puppies, and work diligently to be certain we've done everything possible to meet your needs, while ensuring the happiness of our puppies.
Reservation List: Many families just know they want a Cornerstone puppy; they've either worked with us before, know someone who has, or they've looked around enough to know that our approach to matching puppies with their new families is the way they want to go.
If you know you'd like to work with us and you're ready to reserve your future puppy, please visit our reservations page. The process of acquiring your puppy will begin and be based upon your requests, and our telephone visits with you.
If we have agreed that a puppy available for immediate selection will be the best one for you, we will hold the selected puppy long enough for your reservation to be completed. Otherwise, we will confirm the receipt of your documents and deposit, and secure your spot on our reservations list based on the date & time we've received them. We will be helping families select their future puppy in the order deposits are received.
We consider the selection of your new family member an extremely important task. With over three decades of experience in successfully matching puppies to new families, we respectfully request that you give our recommendations your full consideration.




























Our puppy selection process begins with a friendly telephone conversation. We want to get to know you and learn about your personal circumstances so that together, we can determine what type of puppy is right for you, and establish the approximate time frame of our ability to meet your needs. We hope to be able to answer all your questions and have the opportunity to ask a few of you, as well. We believe this phone call can and should be polite, pleasant and respectful of your requests, while helping to put our minds at ease about the placement of our puppies.
We will allow the selection of a specific puppy only after we've had the opportunity to visit with you by phone, and a puppy meeting your criteria has reached an appropriate age for selection.
We will not be choosing for you, but working together with you, to help you pick a puppy that will be perfect for you! Whenever possible, we will allow you to choose your puppy from among those we've determined to be the best suited for your family based on all the qualities in a puppy that are important to you.
We will help you select your puppy with the utmost of care. We feel honored that you trust us with such an important decision. We want you to be happy with your puppy and confident about adding a new family member to your home. We believe the process of acquiring your new puppy should be a pleasing experience all the way through.




























We may not have puppies available for immediate selection in the breed, color or gender you may be wishing to acquire. Reservations for our litters are often received before birth, or very soon after our little ones have been added to Our Nursery. If you've completed a reservation, and are in the placement of waiting for an upcoming litter to be born, we will contact you as soon as the new babies have arrived. If your reservation was placed for a specific litter or time frame, we will send you periodic updates and photos as the babies age and develop.
While we agree that the Coton de Tulear and Havanese breeds are absolutely wonderful in general, we also believe that every puppy is unique and special. We feel strongly that allowing puppies to be specifically selected before they have been properly evaluated for all things, including health and temperament, would be doing an extreme disservice to our puppies, and the families with whom they will be living, as well. We want you to be happy with the look, color and gender of your new puppy, but we know after 30+ years of experience that you must be pleased with the health and personality of your puppy, too. Some little ones are more active than others, some more reserved. Matching a puppy's type to the desires of the new family can, and absolutely should, be part of the process. Since young babies spend most of their early weeks nursing and sleeping, it's impossible to fully determine where they will fall on the personality spectrum. Taking the time to evaluate our puppies as they progress allows us to make good, intelligent recommendations for the best possible connection between a puppy and a new family. Every puppy and every family deserves our best effort!
When you select a puppy that's been offered to you, we will move forward with planning your puppy's homecoming. You may also pass on an available puppy, and remain in your position on our reservations list.




























The following is a sample of our written Contract and Guarantee. An actual document includes the Puppy's Sex, Breed, Color, Date of Birth, Microchip Number, AKC Registration Number & Type, the AKC Registered Names and Numbers of both the Sire and the Dam, and a complete Medical Record.
"I guarantee this puppy to be in good health to the best of my knowledge, all shots and wormings to be up to date and free from obvious health conditions or defects at the time of transfer to the Customer. To validate this guarantee, the Customer must have the puppy examined by a Veterinarian within 72 hours of acquiring the puppy. The Customer must provide the vet with the medical record for continuing care and vaccinations to be properly scheduled. Should you, the Customer, neglect to take the puppy and medical record to the vet for this exam, you will accept immediate and full responsibility for the health of your puppy. All vet bills are the responsibility of the Customer. If there is found to be a serious incurable health condition or defect, the puppy and the written vet statement must be returned to me immediately. If a puppy must be returned to me, it will be exchanged with one of equal value, if one is available, or money will be refunded within a reasonable period of time. The Customer agrees to keep all medical needs up to date and to have this puppy spayed or neutered. In the event that the Customer is no longer able to care for this puppy, it will be returned to me with no cash refund. There are no other representations or warranties not contained herein. This contract is the entire agreement between the parties."
*The registered name of this puppy will begin with Cornerstone.
Additional Terms: If shipped, this puppy will be examined by our vet within ten days of travel. The Customer will receive an Official Small Animal Certificate of Veterinarian Inspection. The puppy will travel by priority service in an airline approved crate with food and documents attached. The cost of the priority airfare, veterinarian exam and health certificate, shipping crate, and bedding is included in the total shipping fees.
Actual documents will also include the Date of Sale, Sale Amount, Method of Payment, and Customer Information.




























As an integral part of our breeding program, our adult dogs are screened for physical soundness. In addition to their routine veterinary care, our Coton de Tulear and Havanese are examined for patellar luxation and congenital cardiac health. They are also BAER (Brainstem Auditory Evoked Response) tested for congenital deafness and tested by our ophthalmologist for heritable eye disease. The findings of these exams are recorded with The Orthopedic Foundation For Animals, Inc. (OFA) and with the Canine Eye Registration Foundation (CERF). As part of our puppies medical records, we are pleased to provide you with copies of their parents certificates along with written information about each of these important health issues.





























We are no longer raising the Bichon Frise. They will always have a special place in our hearts:-)
Havanese puppies: $2,800.00.
-The price of our Showing/Breeding prospects is $6,000.00, additional contract conditions will apply.
Coton de Tulear puppies: $2,800.00.
-The price of our Showing/Breeding prospects is $6,000.00, additional contract conditions will apply.
Adolescent puppies: $3,000.00.
-Ages ranging between 4 months to 1 year.
Young Adult dogs: $1,000.00 - $2,000.00.
-Ages ranging between 2 to 6 years.
Rescue Dogs or Retirees: $175.00 - $350.00.
Driver Delivery: .90 cents per mile, based on the round trip, from our home to the point of delivery.
Update: We will not be shipping at all until the COVID-19 situation has resolved.
In-Cabin Flights: Approximately $150.00 for puppy, in addition to an escort fee &/or regular airfare.
Solo Shipping: One puppy - $650.00; Two puppies - $750.00, when traveling together in one crate.
-Please see our shipping addendum for complete information.




























Pick Up: Always a wonderful decision; we love it when families are able to make the drive to our home!
Driver Delivery: As an alternative to driving here, we have a handful of people we trust to safely and lovingly transport your puppy from our home to yours, or any distance in between. They're either members of our family, or very close friends; all sweet and dependable people the puppies already know.
Update: We will not be shipping at all until the COVID-19 situation has resolved.
In-Cabin Flights: The coordination of taking a puppy onboard a flight requires a couple weeks of advance planning. We may consider escorting a puppy on a flight ourselves, or work with you to make the arrangements necessary should you decide to fly here. Our nearest airport is Sacramento International.
Solo Shipping: In general, we would prefer not to ship puppies alone. For families that have worked with us before, we will consider making an exception to this rule. If we have agreed to ship a puppy for you, whenever possible, we will arrange for them to travel through United Airlines Pet Safe Program. This way we can be sure your puppy will receive the special attention he, or she, deserves. If United does not fly in to your area and it becomes necessary for us to schedule your puppy's travel with another airline, additional conditions will need to be considered.
Puppies flying alone will travel in a special cargo area that's pressurized and maintained at the same temperature as the passenger area. When traveling by priority, they are guaranteed to be taken immediately off the plane with no long holding periods before, during or after the flight. Most families report that their puppy was made available between 15-30 minutes from the time the plane arrived. It isn't safe, or necessary, to sedate puppies before air travel. We plan play time for each puppy before the flight, so they are usually quite ready to go in for a nap when it's time to go.
When your puppy arrives, he or she may be picked up at the designated office with whichever airline they are traveling on. All of the airlines will require some form of identification before releasing a puppy to their new owner.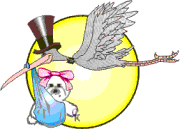 All of our puppies will be sent home with a few essential items to help make the transition as smooth as possible.
These will include:
A folder containing all your puppy's vital documents
-AKC Registration Application, 3 Generation Pedigree, Contract & Guarantee, Medical Record, & Care & Training Instructions
AKC Reunite Microchip
-With Microchip Registration Transfer Application and Collar Tag
1 starter bag of excellent quality puppy food
-Kirkland Signature, Super Premium Puppy, chicken, rice & vegetable formula
1 small pouch of puppy training treats
-Charlie Bears
1 stuffed toy, &/or blanket, when picked up. (A pillow edge, berber bed - only when shipped).
-Retains environmental scent so puppy takes something familiar from home.
1 retractable leash
-When supplies are available
1 small sample bottle of puppy shampoo
-Fresh 'n Clean Oatmeal & Baking Soda formula
2 potty pads
We've put together a list of additional things you may wish to acquire in advance to be prepared for your new puppy's homecoming: New Baby Stuff.

CK Customers Only: For your convenience, some of the products we recommend are now available to be purchased, and provided to you with your new puppy. For more information, please ask about our available puppy supplies before we meet!




























Update: The process of transferring a puppy to his or her new family will be determined by the current state of the COVID-19 situation. When the time comes for our little ones to leave us, we have a good plan in place for transferring the pups while also respecting social distance protocols.
Pick Up: We will schedule a day and time for you to meet with us in our home, and will send you a confirmation message with our address, directions, and some tips for traveling with your new puppy. Most families stay about an hour, although we generally plan for a two hour timeframe. Other families may have planned to pick their puppy up on the same day as you. If you arrive early, or late, our time with you may be cut short or may interfere with the time another family has to visit with us. We believe it's important to address all the questions you may have, and be able to offer guidance regarding the care of your new puppy, without being rushed. We will be grateful for your punctual arrival, and will be looking forward to our time of visiting with you!
Driver Delivery: When your puppy will be driven to you, we will have scheduled an exact day, and an approximate time frame for arrival. We will touch base with you at the onset of the drive, and update you along the way. Our drivers are experienced in puppy care, and will gladly to go over all the things we'll be sending home with your little one.
Update: We will not be shipping at all until the COVID-19 situation has resolved.
In-Cabin Flights: When a puppy will be flying with an escort, we will have planned a meeting time with you based on the scheduled flight to the airport nearest you. If you'll be flying here, you may either rent a car to drive up and spend time with us as pick up appointment plan, or have a delivery driver meet you at the airport during your turn around time.
Solo Shipping: We will text or email your puppy's flight information prior to the tentative date of shipping. Flight times and numbers are subject to change without notice, so we will not obtain that final information until just before each flight. The toll free number to verify your puppy's flight number and arrival time will be included in the instructions. With that number, you'll also be able to inquire about the exact location of the pick up office for the airport nearest you.




























It's so exciting to have a new puppy; they're fluffy little bundles of love and joy! There's no getting around it, though, the first week can be a bit challenging, for both you, and your new puppy.
It's important to remember that this transitioning phase is temporary, and it's more important for your little one to feel safe and loved than it is to begin rigid training right away. Cotons and Havanese are people pleasers, they want to make you happy and do the right things. They learn best with good structure, and positive reinforcement. The first week should be focused on sweet bonding time and settling in to your routine.
It's helpful to have decided ahead of time where your puppy will sleep, and have a general plan for your pups training. We're here for guidance should you need it; we'd rather help you problem solve at the onset of an issue than after negative patterns have developed.
Socializing your puppy will be an important part of his or her development, as well. Puppies may visit with other people who will provide good, positive experiences; they're really smart and will remember the people and things that are impressed upon them at a young age.
They may also visit with good natured dogs who are: 1. known, 2. well, 3. vaccinated, and 4. over the age of 16 wks. It's important that any dog your puppy interacts with meet all 4 of those criteria points; no puppies are finished with their vaccine protocal until they reach four months of age. Going to dog parks or other places where unknown animals have been should be avoided until your puppy has received his or her final set of vaccines. Please plan to have your puppy seen by your vet as soon as possible so they can set you up for your puppy's follow up routine care.
And please remember, one of the most loving things you can do for the long term safety of your new puppy is to get your pups microchip registered right away! For more information about microchips or to register online, visit: AKC Reunite.
Taking care business items in week one is the best way to be sure those important actions are accomplished quickly, and you've done your part for setting your little one up for a safe and healthy future!




























We pledge to be available for all follow up questions or concerns. If it's something simple, you're welcome to send us a quick text. If we can reply adequately by text message, we will. If your questions require a more detailed response, we will find out what the best time is for you to connect with us by phone. And, at anytime, if you have concerns about your puppy, please do not hesitate to call....day or night!